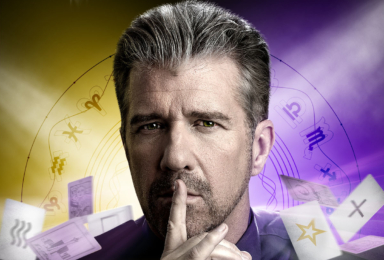 Banachek
Banachek - "The World's Greatest Mind Reader"
Banachek
Banachek - "The World's Greatest Mind Reader"
Banachek has performed on major TV shows from CNN Live to The Today Show and has had hundreds of smaller appearances on TV shows the world over, including appearing on and producing over 100 TV shows for Criss Angel. He has appeared in almost every major magazine and newspaper from the New York Times to the National Enquirer.
From the college market, he received the coveted Entertainer of the Year award from the Association for the Promotion of Campus performers two years in a row and the Novelty Act of The Year beating out bands, comedians and other novelty artists.
Banachek is the most awarded mentalist in the USA and has been awarded the Psychic Entertainers Creativity award and is sought out as a consultant by most major magicians and mentalists in the USA and abroad including Penn & Teller, Criss Angel and David Blaine. Banachek has put more magic on television than any other magic consultant in the USA.
Banachek is the first person to be chained, handcuffed and buried six feet under the ground to only escape. Others have tried, others have, failed others have died.
Banachek's creations have become a part of mentalism and magic culture so much so that it is very hard to find a single mentalist or magician living today that is not using one of Banachek's effects or applying one of his subtleties within their own work. His creations are considered to be "Cream of The Crop."
Even the Penn & Teller closer, 'The Magic bullet', performed in Las Vegas for many years, was created and performed first by Banachek.
Penn of Penn & Teller called Banachek's show, "The greatest mentalist act, in the world."
From Trade shows, cruise ships, corporate gatherings, keynotes, theaters, and as a headliner at the Strat in Las Vegas, Banachek's performances thrill and delight ending in a resounding standing Ovation.