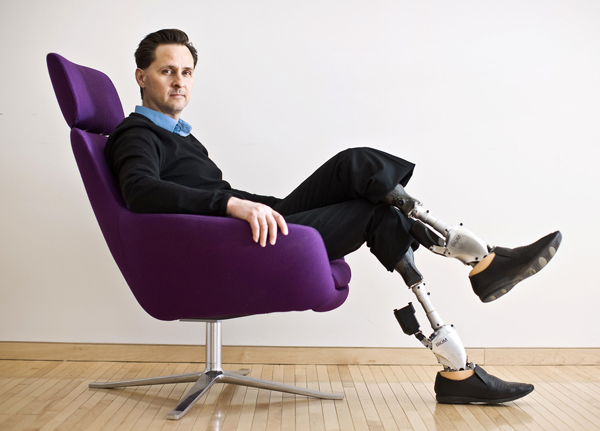 Hugh Herr
Director of Biomechatronics Research Group
Hugh Herr
Director of Biomechatronics Research Group
Hugh Herr, who heads the Biomechatronics research group at the MIT Media Lab, is creating bionic limbs that emulate the function of natural limbs. In 2011, TIME magazine coined Herr the "Leader of the Bionic Age" because of his revolutionary work in the emerging field of biomechatronics–technology that marries human physiology with electromechanics. A double amputee himself, he is responsible for breakthrough advances in bionic limbs that provide greater mobility and new hope to those with physical disabilities. He has also designed his own bionic legs, the world's first bionic foot and calf system called the BiOM.
Herr is the author and co-author of over 80 peer-reviewed manuscripts and patents, chronicling the science and technology behind his many innovations.
The computer-controlled knee was named one of TIME magazine's Top Ten Inventions in 2004; the robotic ankle-foot prosthesis, which mimics the action of a biological ankle and, for the first time, provides transtibial amputees with a natural gait, was named to the same list in 2007.
Herr's story has been told in the biography Second Ascent, The Story of Hugh Herr; a 2002 National Geographic film, Ascent: The Story of Hugh Herr; and 2012 features in CNN, The Economist, Discover, and Nature.