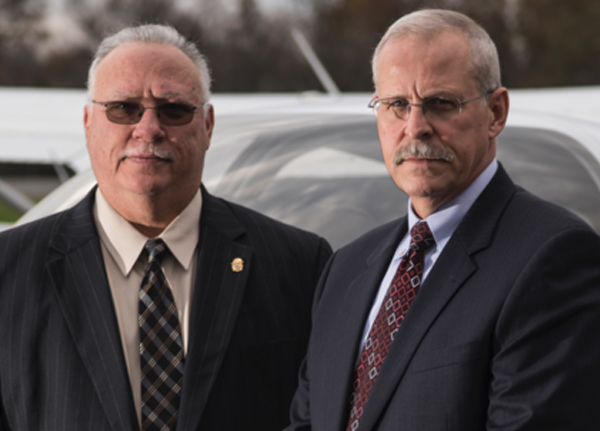 Stephen Murphy and Javier Pena
Retired DEA Special Agents & Subjects of Netflix's Narcos
Stephen Murphy and Javier Pena
Retired DEA Special Agents & Subjects of Netflix's Narcos
Stephen Murphy and Javier Peña recount their gripping pursuit of Pablo Escobar while delivering practical and oftentimes unorthodox advice on achieving successful outcomes in the face of extreme odds.
The former DEA Special Agents in Charge responsible for the capture and downfall of infamous Medellín cartel kingpin Pablo Escobar, Steve and Javier were at the center of the largest, most complex, multi-national, high-profile investigation of its time. Their incredible journey pursuing the world's first "narco-terrorist" following his brutal reign as head of the Medellin cartel in the 1980s and early 1990s is depicted in the Golden Globe-nominated Netflix series "Narcos."
These celebrated law enforcement officers take audiences deep into the history books as they reveal inside stories from a good-versus-evil battle that seems too wild to be true. Along the way, they share the lessons they learned on effective leadership, teamwork and split-second decision making amid extreme circumstances.
With a combination of tactful humor and rarely seen visuals, Steve and Javier complement anecdotes about their experiences in hostile and oftentimes life-threatening conditions with a memorable and entertaining look at the real-life cartel drama. As a team, their admiration for one another's efforts in their celebrated battle over evil is unmistakable and inspires audiences to recognize the possibilities created by working together.
ABOUT STEPHEN E. MURPHY
As a Special Agent with the Drug Enforcement Administration (DEA), Stephen Murphy and his partner, Javier Pena, targeted the world's first narco-terrorist, Pablo Escobar, and the Medellin Cartel. Living and working alongside their Colombian National Police counterparts in Medellin, Colombia, as well as with elite U.S. military units, their efforts resulted in the dismantlement of the largest and most violent international drug trafficking organization of its time. This was a first in the field of international narcotics investigations. U.S. and international law enforcement continue to utilize many of the strategies and innovative ideas that were created and implemented by Steve and Javier.
Steve began his law enforcement career in 1975 as a Police Officer in the City of Bluefield, WV. He then moved to Norfolk, VA, and was employed as a Special Agent for the Norfolk Southern Corporation.
ABOUT JAVIER F. PEÑA
Javier Peña retired from the Drug Enforcement Administration (DEA) as a Special Agent in Charge (SAC) in January 2014 after 30 years of service. His career was highlighted by his volunteering for assignment to the DEA office in Bogota, Colombia in 1988, where then Special Agent Peña and his partner, then-Special Agent Steve Murphy, set out to bring down the notorious Medellin drug cartel led by Pablo Emilio Escobar Gaviria, or Pablo Escobar.
Special Agents Peña and Murphy worked and lived with a handpicked group of Colombian National Police (CNP) personnel while pursuing Escobar.